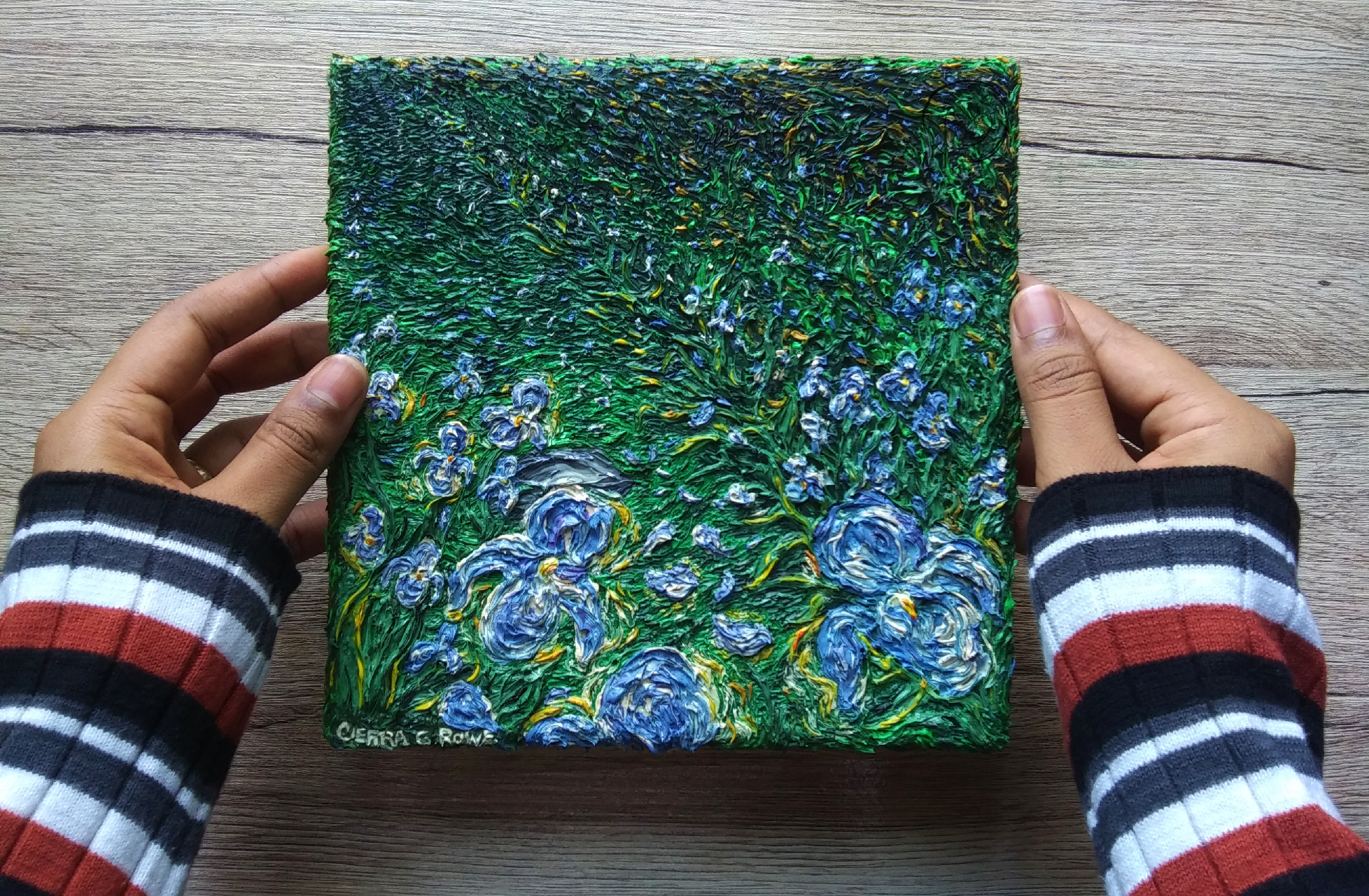 About Oil Paintings

I complete my original oil paintings over triple primed stretched canvases, using only my palette knives. My oil paintings are comprised of thick, sometimes layered, colors and an abundance of texture that can be seen and touched. My preferred and sole surfaces for my oil pantings are stretched and gallery wrapped canvases. With the exception of occasioanlly thinning paint for my signature, I do not use solvents or thinners within any of my oil paintings. Generally it can take me anywhere from a couple of hours to several days or weeks to complete a painting, depending on the subject, materials and the size of my canvas. Out of habit, I always paint the edges of every canvas. This, in turn, adds depth to my paintings and can also be beneficial if you would prefer to display the artwork unframed. There is no precise drying time for oils. Given how thick and textured some of my paintings are, they may take a few weeks to be dry to the touch and firm enough to safely ship. Some oil paintings take longer to dry than others, depending on how thick I layer my colors. I only list my paintings once they are dry to the touch. I photograph my art in natural light, in order to give an accurate image of how each work appears. Each oil painting is wired to hang and arrives with a signed certificate of authenticity and care instructions. I store all of my paintings in a secure and safe environment.
*About Acrylic Paintings
Though I no longer paint with acrylics and have taken those works down from this site, I still enjoy looking back on them. Prior to embracing oils, I completed my acrylic paintings using brushes, palette knives and acrylic paint, occasionally accompanied by semi-heavy gels, on stretched or flat canvas. My impasto acrylic paintings are actually what first inspired me to revisit oils.
Pricing
Paintings have the ability to breathe life into a room, turning ordinary walls into sections of escape, or corners of conversation. I adore painting but more than that, I relish sharing and shipping my artwork to those who desire it. For this reason, I feel that it is necessary to price my paintings appropriately but reasonably, so that they are attainable.
I calculate my prices by considering the amount of time that it takes for me to finish a particular painting (I use only palette knives with my oils and that tends to take a great deal of time), the amount of paint used per painting, the size of my canvas, the frame, if included and finally I consider that these are original one of a kind pieces that are not available as prints and are ready to hang, straight from their box. Browsing art online is ok, but being able to hang a special, one of a kind work of art in your home can be an incredible feeling.
Prints
Call me ''old fashioned'' but I do not offer prints of my paintings nor have I given anyone else permission to create prints of my artwork. See
Further Information.
Shipping
Click
Here
for shipping and handling information.
**Notice** Actual colors shown within my artwork may sometimes vary slightly from your monitor. This is due to computer monitors and screens possibly displaying colors differently.
Contact me
if you have questions or concerns.